Today, I think every home has an awesome entertainment system such as TV, media player, HI-FI and etc. And I'm sure that all of the entertainment system comes with a remote control. Let's say you have 6 device with a remote for each. Can you just imagine how many batteries that you must have for each remote control. Don't you think that sometimes it can be a bit annoying to have to many remote at once to control a device? Confuse right? So I want to share with you something cool today.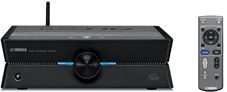 A cool device called
Yamaha neoHD
. For the first time I heard about it, I thought it's just a normal remote control. Why should I buy a normal remote control for a price about $600?? I can get it for $20 only! I soon found out that it wasn't just a remote, but a high tech entertainment system that doesn't only look good but it can makes my entertainment system work a whole lot better.
For your info, it is actually an all in one remote that can control up to 6 AV components including Blu-Ray and some game systems. The controller boasts to be advanced and give complete control but made for simplicity. Once connected to your toys and TV, you have a choice of three menus, with WATCH, LISTEN and PLAY. Depending on your choice, the corresponding component will turn on and appear on screen. How is that? One remote to control other device. Don't you think it's cool?
If you think you can't afford it, you can try your luck on
Yamaha neoHD Sweepstakes
for a chance to win and by going to blog.izea.com to enter. If you have a Twitter account you can Tweet: "

I just entered to win a #neoHD b/c I have too many remotes, visit (blog.izea.com) to enter

" for the opportunity to win. Not only that, if you have a Facebook account, you can find them on Facebook to know any further info. What are you waiting for? It's time to eliminate multiple remotes. All I can say is what a technology.